Progress has been made on the construction of the seawater reverse osmosis (SWRO) desalination plant, located within the Jebel Ali Power Plant and Desalination Complex, with the project now being 79% complete. 
An update on the desalination plant's construction came after HE Saeed Mohammed Al Tayer, managing director and CEO of Dubai Electricity and Water Authority (DEWA) inspected progress on the complex.
Belgium-based builder BESIX and Madrid-headquartered ACCIONA are building the project. The contract was awarded to the joint venture company created by BESIX and ACCIONA Agua, with the deal valued at $237m (AED871m).
Upon completion, the plant will have a total production capacity of 40 million imperial gallons per day (MIGD), making Jebel Ali Power Plant and Desalination Complex one of the main complexes providing Dubai with reliable, efficient, and high-quality utility services.
During his visit, Al Tayer was accompanied by Khalil Sabt, vice president of production planning; Mansoor Al Suwaidi, vice president of projects and engineering; Masoud AlKamali, senior manager of projects; and Mohamed Al Marzooqi, project manager; the contractors' representatives, consultants, and other DEWA staff.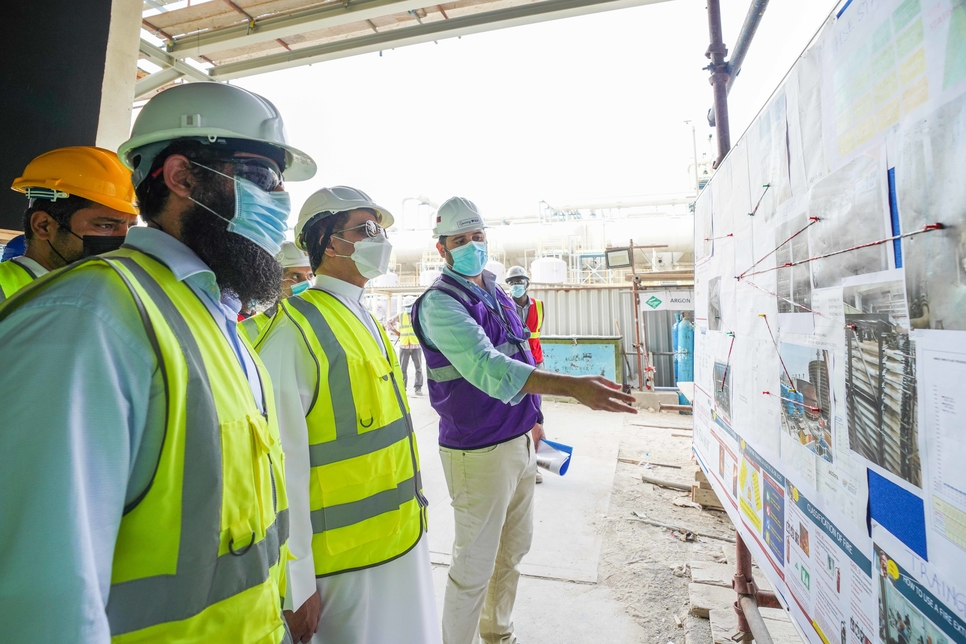 In terms of construction work, the project's main buildings are at finishing stage. Most of the marine works are complete and the commissioning works started, after the operation of the first main power transformer.
The SWRO plant and its associated facilities are being developed to include an advanced pre-treatment, double -pass reverse osmosis SWRO technology, post-treatment process, and storage facilities that are connected to the water network.
The plant is scheduled to commence operations in Q1 2021 to meet the reserve margin criterion set for peak water demand for 2021 and beyond.
Highest standards of safety, health and security are being followed on the site, with the team engaged in delivering the project on time.
The government authority said that the project is being built to advance DEWA's strategy to decouple plans for water desalination and power production, as well as water desalination using solar energy.
By splitting up energy production and water desalination, DEWA hopes it will be able to produce all of the desalinated water it is required to deliver using a combination of clean energy and excess heat by 2030.
---
This information has been sourced from ConstructionWeekOnline. All rights and opinions thereof belong to the original source author/publisher. WASEL&WASEL does not purport to be affiliated with the news, its persons, or interests in any way unless explicitly stated so.
---
To request our assistance, please contact one of our Professionals.