Construction is progressing rapidly on Expo 2020 Dubai's Austria Pavilion, — located within the Opportunity District — with the external structure, a part of the Phase 1, now being complete.
In light of the COVID-19 pandemic, the construction of the basic structure was carried out in accordance with the health and safety rules directed by the UAE authorities for construction sites in Dubai.
"The postponement of the World Expo until October 2021 made it necessary to adapt the timeline for the construction of the Austria Pavilion," explained Austria's Commissioner General Beatrix Karl.
He added: "Phase one of construction is now finished, with the completion of the outer shell."
In October 2019, ground was broken on the pavilion that rests on a plot area of 2,400m2. Meanwhile, the first of 38 cones that form the pavilion was completed in spring 2020.
The cones have a diameter of 7 metres at the base and are between six and 15 metres high and intersect one another to form space sequences of varying sizes.
A total of 246 pre-fabricated elements have been connected to form the 38 cones. Such method of construction will make the dismantling process easier and keep the elements safe for reuse and reassembly at a different location.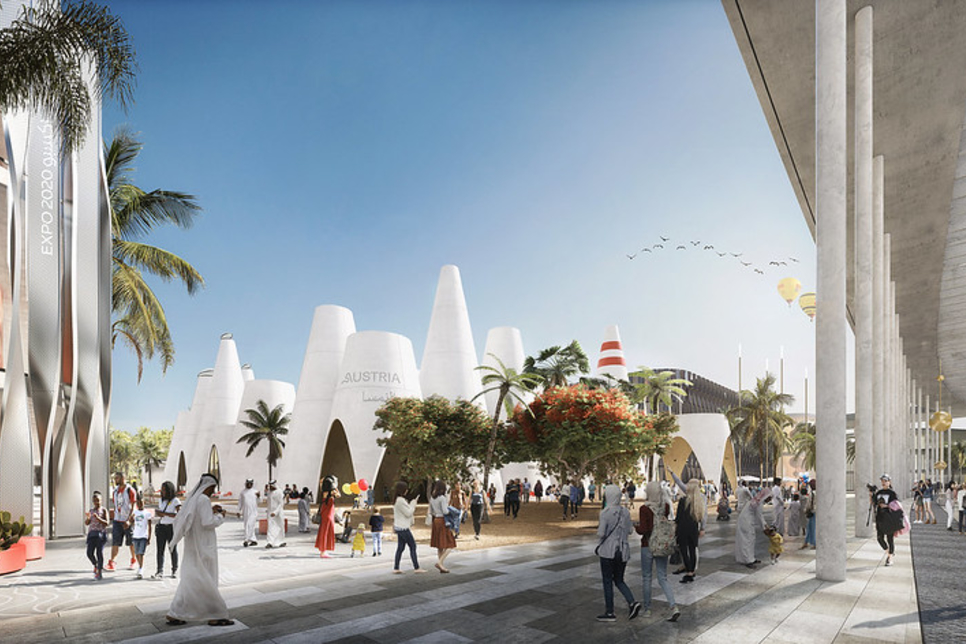 Vienna-based Querkraft has designed the pavilion. While, WME, a multi-disciplinary consultancy is providing building services, AV/IT engineering support, including sustainable design. The consultancy is also acting as architects and engineers of record.
Talking about Phase 2 construction, Karl said: "Construction on phase two will last until the beginning of 2021. The exhibits, fittings, and furnishings will be installed in plenty of time before the opening."
Meanwhile, Margarete Schramboeck, Federal Minister for Digital and Economic Affairs, said: "We must now take action beyond national borders and across the relevant disciplines to build a robust recovery together."
"Austria will present itself as a reliable business partner and innovation hub in challenging times," Schramboeck added.
Speaking about the impact of the pandemic, Harald Mahrer, president of the Austrian Federal Economic Chamber, said: "The coronavirus has also impacted Austria's successful, export-oriented economy. Our participation in the World Expo in Dubai – with more than 190 participating countries and innumerable businesspeople from around the world – is an important step in getting exports back up to speed as quickly as possible."
Austria Pavilion's exhibition is being curated and run by Ars Electronica Solutions and büro wien.
The country's participation in the World Expo is being financed with funds from the Federal Ministry for Digital and Economic Affairs and the Austrian Federal Economic Chamber.
---
This information has been sourced from ConstructionWeekOnline. All rights and opinions thereof belong to the original source author/publisher. WASEL&WASEL does not purport to be affiliated with the news, its persons, or interests in any way unless explicitly stated so.
---
To request our assistance, please contact one of our Professionals.