The Muscat National Development and Investment Company (ASAAS) has signed a usufruct agreement with the Office of the Minister of State and the Governor of Musandam to develop the Bassah Beach Project in the province of Khasab in the Musandam Governorate at a cost of approximately $23.37m (OMR9m). 
The agreement comprises developing an area of ​​approximately 73,000m2 to include the master plan of the project, including a tourist resort with a wadi, campground, resort gardens, spa, retail centre, specialty restaurants, pooldeck, education centre, a plaza, as well as parklands and trails.
The deal was signed by the Minister of State and Governor of Musandam, HE Ibrahim bin Saeed Al Busaidi, and the Chairman of the Board of Directors at ASAAS, Abdullah bin Humaid Al Maamari.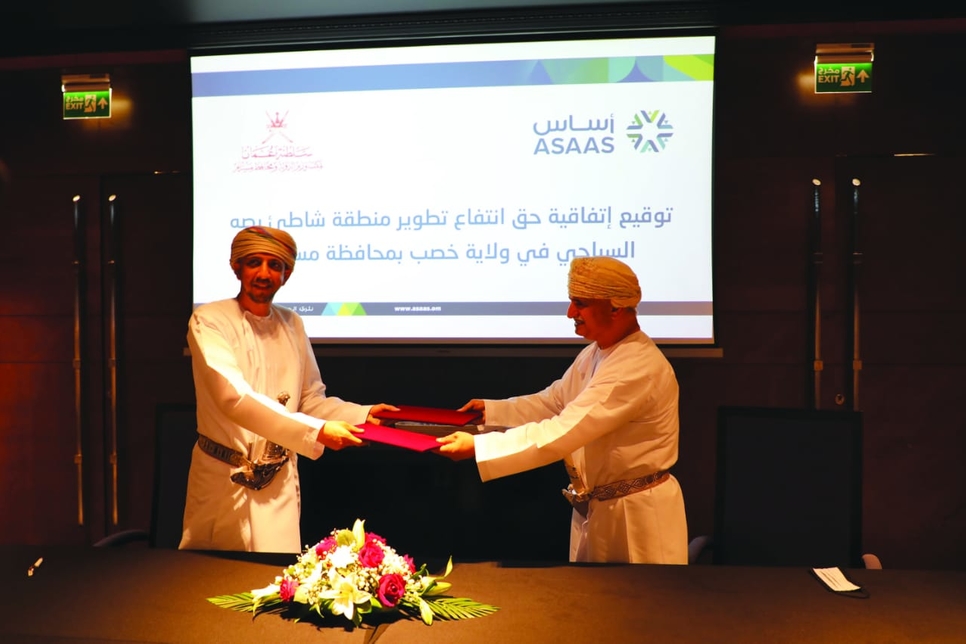 The development aims to diversify Oman's economy, develop tourism projects, improve the sultanate's gross domestic product (GDP), provide job opportunities, and strengthen partnerships between the private sector and the government sector.
The Bassah Beach Project is located near the Khasab airport and 2.6km from the state centre. The area is known for its sandy beaches within the coastal state of Khasab, which is also known for its mountainous topography, according to the state-run Oman News Agency.
Al Maamari said that with this project, the company confirms the continuity of its strategic partnership with the government sector to achieve the advancement of the tourism sector and making the sultanate a tourist destination for all.
---
This information has been sourced from ConstructionWeekOnline. All rights and opinions thereof belong to the original source author/publisher. WASEL&WASEL does not purport to be affiliated with the news, its persons, or interests in any way unless explicitly stated so.
---
To request our assistance, please contact one of our Professionals.