UAE-headquartered upscale residential, hospitality, and commercial property developer Seven Tides has rebranded its $272.26 (AED1bn) development in Jumeirah Lakes Towers (JLT) from Seven City JLT to Golf Views Seven City, to fully appreciate its stunning views over Emirates' renowned Faldo and Majlis golf courses and its iconic clubhouse.
Launched in May 2018, Golf Views Seven City – formerly Seven City JLT – is Seven Tides' first mixed-use development and the company's largest project to date.
Located at Cluster Z, Jumeirah Lakes Towers, the project will be the most integrated building in JLT comprising 27 floors and featuring 2,617 residential apartments as well as 13,935.5m2 of retail space, a hotel, and restaurants.
The development is said to be Dubai's second largest single-structured building in terms of built-up area next to Burj Khalifa, at 325,160.64m2.
The development will feature a wealth of promenade restaurants overlooking a lake, also features a fully equipped gym, health club, infinity pool, children's pool, 12 Sky Gardens, cafes, as well as other dining options.
It will also host an extensive retail offering with 49 units including a three-screen cinema, a hypermarket, and 2,617 car parking spaces, with an additional 312 spaces dedicated to retail customers, including valet service. The development is easily accessible by road and just a short walk from the Dubai Metro.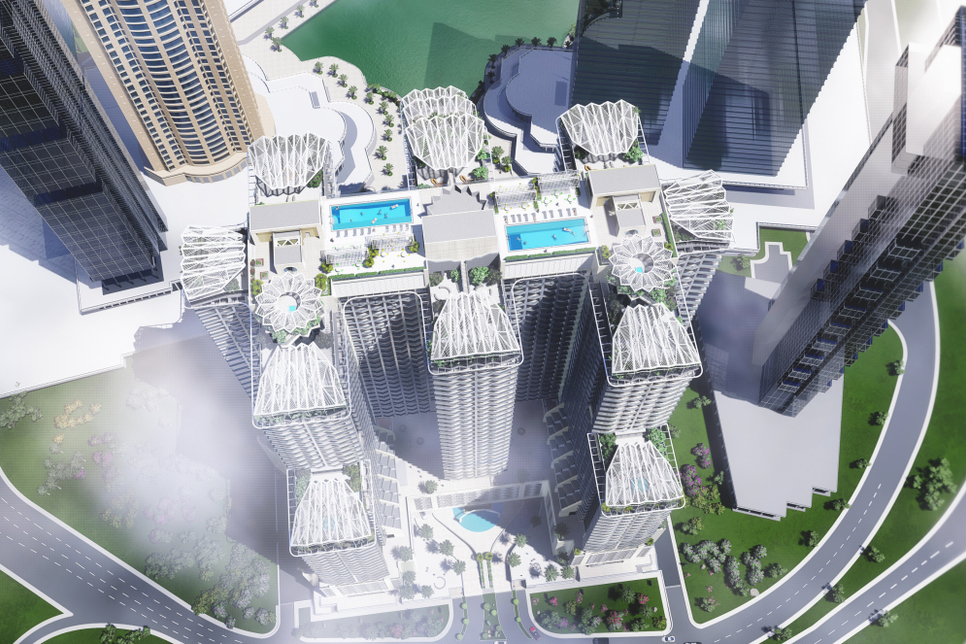 As construction activity on Golf Views Seven City ramps up, Seven Tides has also recently announced the appointment of leading contractor Airolink to oversee the completion of project, which is due for handover in Q2 2023.
The company brings a wealth of construction experience to the development having been responsible for delivering several projects within the education, commercial, retail, residential, and hotel sectors.
Commenting on the rebranded property, the chief executive officer of Seven Tides, Abdulla Bin Sulayem, said: "Golf Views Seven City is designed to provide everything a resident might want, with various retail options, entertainment, food and beverage outlets, gym, and a health club. However, when residents do venture outside, they'll still be able to enjoy the urban vibe, with the excitement and fast-paced, hustle and bustle of city life, right on their doorstep."
Studio apartments start from $109,145 (AED400,888), ranging in size from 35.67m2 to 38.65m2; while one-bedroom apartments start at $207,159 (AED760,888) and range in size from a minimum of 68.2m2 to a maximum of 82.68m2.
Prices of two-bedroom apartments start at $273,863 (AED1,005,888) for a 100m2 unit. Finally, the entry price for three-bedroom apartments starts at $422,244 (AED1,550,888) for a unit covering 140.84m2 of space.
"This development represents excellent value at a competitive price point. In addition, we offer a very attractive easy payment plan and you can book your apartment with a 5% deposit. We estimate that studios should yield 12% per annum," bin Sulayem added.
---
This information has been sourced from ConstructionWeekOnline. All rights and opinions thereof belong to the original source author/publisher. WASEL&WASEL does not purport to be affiliated with the news, its persons, or interests in any way unless explicitly stated so.
---
To request our assistance, please contact one of our Professionals.