Siemens Energy — Munich-headquartered multinational conglomerate Siemens energy company — has been picked to provide the electrification package for Egypt's Cairo Metro Line 3 expansion project.
Under the package, Siemens Energy will provide a suite of comprehensive technologies for the project that will ultimately connect the heavily populated Cairo city with Cairo International Airport.
The scope of supply for Siemens Energy comprises automation, protection, and telecommunication equipment to connect the control center of Line 3 with Cairo's regional control center.
The electrification package also includes the installation of the company's digital power transformers — Siemens Sensformer. The Siemens Sensformer operators will have access to a cloud-based platform application that visualises the collected data and helps provide a comprehensive overview of all the power assets in real time.
Siemens Energy has been working with the National Authority of Tunnels (NAT), COLAS RAIL, Orascom Construction, and Arab Contractors, to provide power to Line 3 since its inception.
To keep a metro system running on time and efficiently, you need a reliable supply of #energy . That's why we've combined advanced power transmission and #digitalization tech for the #electrification of Cairo's metro line together with @ColasRail_off: https://t.co/BWDkKbJFiR pic.twitter.com/Gq96aNdRua

— Siemens Middle East (@siemens_me) June 3, 2020
Phase 4 of Line 3, which was inspected by Egyptin Prime Minister Mostafa Madbouly, is expected to be completed by end of June 2020.
While Siemens' substations will provide power to the new stations along the expanded route, the Line 3 expansion project will include the German firm's Gas Insulated Switchgear, which can run maintenance-free for 25 years.
Line 3 will use Siemens's SIMATIC substation operating system and digital technology to enhance controllability and reliability, while optimising operating costs.
Speaking about the electrification package, senior vice president of Siemens Energy Transmission Solutions Middle East, Mahmoud Hanafy, said: "To keep a metro system running on time and efficiently, the system requires a reliable supply of energy. That's why we have combined advanced power transmission and digitalization solutions for the electrification of Cairo's new metro line.
"Through these solutions, we will improve availability and reliability of power systems, and make sure they achieve greater efficiency, while ensuring environmental protection."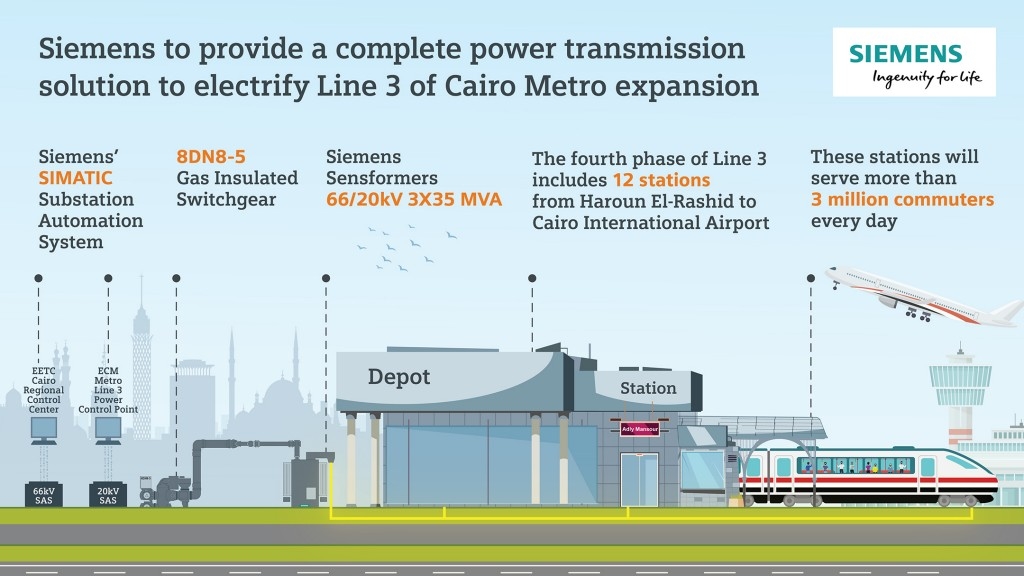 Hanafy added: "The project is also a prime example of Siemens Energy's focus on powering the transportation sector, and the new line is an important project that will enhance the lives of millions of Egyptians and help improve mobility in the capital city."
Meanwhile, managing director for the Middle East and Egypt at COLAS RAIL, Salim HELLEL, said that the latest expansion will help "ease commute times and increase the comfort for millions of residents and visitors in the city, while operating with high efficiency and reducing carbon emissions."
---
This information has been sourced from ConstructionWeekOnline. All rights and opinions thereof belong to the original source author/publisher. WASEL&WASEL does not purport to be affiliated with the news, its persons, or interests in any way unless explicitly stated so.
---
To request our assistance, please contact one of our Professionals.