TECOM Group's Dubai International Academic City (DIAC) and Dubai Outsource City (DOC) have completed work on two solar PV carports that will generate 4.25 GWh of clean electricity per year — the equivalent of powering 350 homes.
With the installation of 4,170 photovoltaic (PV) panels, the 1.6MWp solar carport in Dubai Outsource City will meet 98% of the community's energy requirements and cut 1,250 tonnes of carbon dioxide (CO2) emissions annually.
In addition, the 1.1MWp solar carport will meet up to a fifth of Dubai International Academic City's electricity consumption demands. Completed in eight weeks, it will provide solar power to 12 university buildings across the largest academic ecosystem in the world.
Collectively, the two projects have more than 7,000 solar panels and cover a total area of more than 14,000m2 — the equivalent of two and a half football pitches.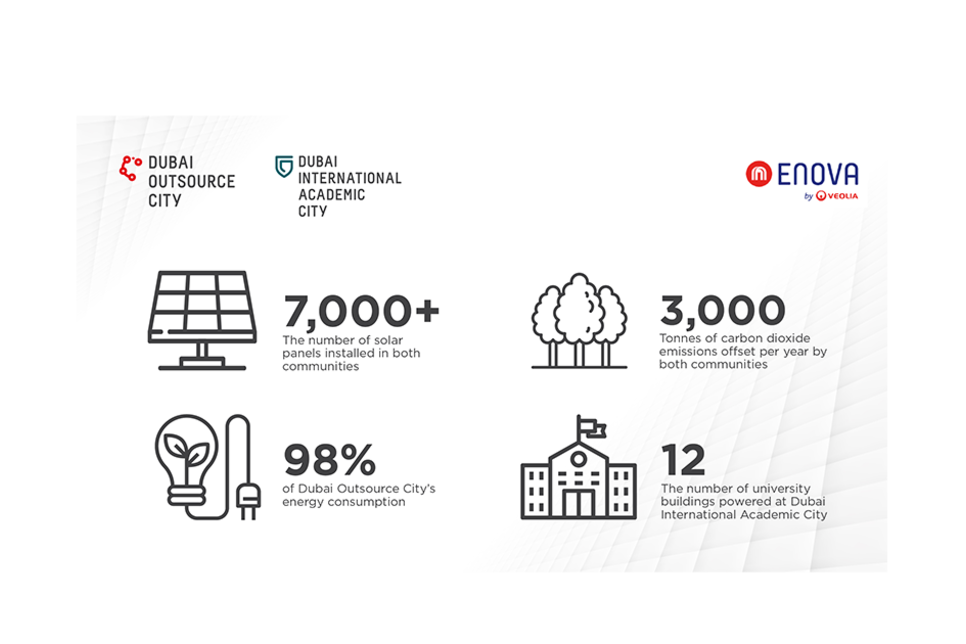 The solar PV carports are the first-of-its-kind to be commissioned for business communities and fall within the purview of a sustainability partnership between the TECOM Group and ENOVA, a regional leader in integrated energy and multi-technical services.
The projects aim to boost energy efficiency and provide renewable electricity to the Group's business communities, while reinforcing Dubai's ongoing commitment to developing sustainable infrastructure.
Commenting on the projects, the managing director of DIAC, Mohammed Abdullah, said: "This achievement is part of the wider Group's commitment towards sustainability. In 2019, we implemented several energy-saving initiatives across our 10 communities that reduced energy consumption by more than 10 per cent compared to 2018.
"The solar carport is one such initiative that has helped us continue to deliver on our sustainability vision, while shaping Dubai's innovation-driven economy."
For his part, the managing director of Dubai Outsource City, Ammar Al Malik, said: "The completion of our first solar carport in Dubai Outsource City falls in line with the UAE's vision to emerge as a world leader in renewable energy consumption and generation.
"We are proud of this partnership and strive to minimise the environmental footprint of our sector-focused ecosystems by providing world-class, sustainable infrastructure for our business partners to support their environmental efforts."
The chief executive officer of ENOVA, Renaud Capris, said: "Powered by Enova's cutting-edge, renewable energy technologies, the new solar carports will deliver several key benefits including enhanced energy efficiency for both TECOM Group and its business communities, all the while reducing the UAE's overall carbon footprint.
"We are proud of our part in aiding the country to not only advance its efforts to realise a sustainable future powered by renewable energy, but also support their aspirations to become a global leader within the field."
Dubai International Academic City and Dubai Outsource City remain committed to reducing energy consumption and promoting the responsible use of natural resources by developing renewable energy infrastructure, conserving water, increasing recycling, and reducing waste generation as part of a group-wide sustainability drive.
---
This information has been sourced from ConstructionWeekOnline. All rights and opinions thereof belong to the original source author/publisher. WASEL&WASEL does not purport to be affiliated with the news, its persons, or interests in any way unless explicitly stated so.
---
To request our assistance, please contact one of our Professionals.