During its third Steering Committee meeting, UNESCO said that it has been making progress on the reconstruction of Al-Nouri Mosque in Mosul, Iraq, following the completion of Phase 1 of the project.
The project comes under the rehabilitation and reconstruction initiative adopted by the committee that covers both Al Hadba Minaret and Al-Nouri Mosque.
As part of its meeting, the Steering Committee listed the future steps for the reconstruction of the two architectural landmarks located in the old city of Mosul. The decision also marks the launch of Phase 2 of UNESCO's Revive the Spirit of Mosul initiative, the UAE's state-held news agency, Wam, reported.
Phase 2 of the initiative includes the consolidation of the remaining base and reconstruction of the Al Hadba Minaret and Al-Nouri Mosque. Work on the project will begin following the completion of two activities; the first one being the completion of field and soil investigations; and consulting with the local community on the design of the edifice and on whether to make the Minaret lean to one side as the original did.
Director-general of UNESCO, Audrey Azoulay, said: "At the end of phase one of the reconstruction of the Al-Nouri Mosque complex, I wish to reiterate UNESCO's firm commitment to the successful implementation of the project for Mosul, for Iraq, and for the world."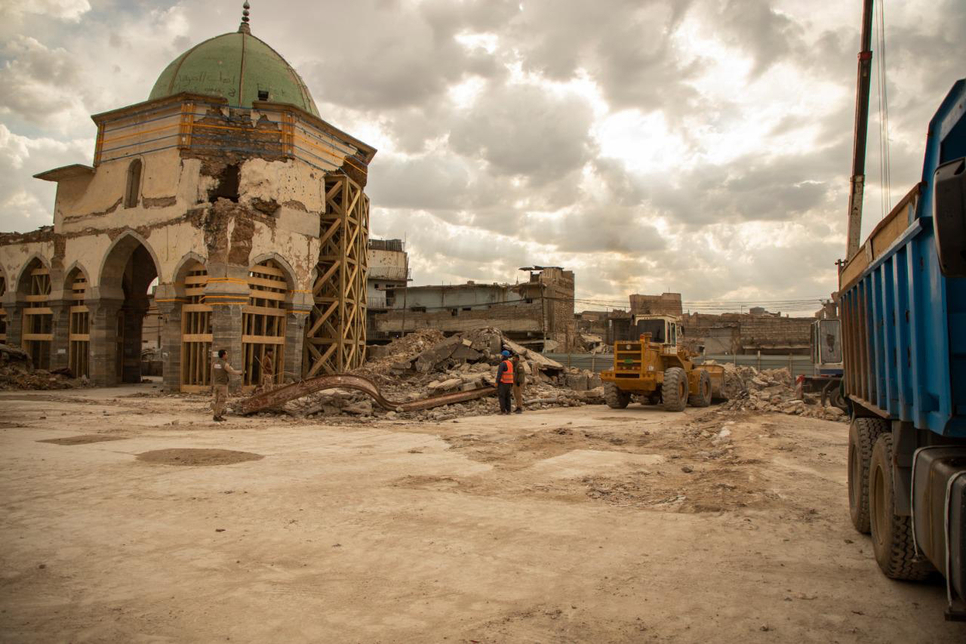 UNESCO will launch an international architectural competition for the reconstruction of Al-Nouri Mosque, with the residents of Mosul being invited to take part in a consultation for the main construction of the structures.
According to UNESCO, the competition timetable will depend on the ongoing response to COVID-19 in Mosul.
Supported by the UAE, the project aims to restore and reconstruct the historic landmarks of Mosul, mainly the Al-Nouri Mosque and its 45-metre-tall leaning Al-Hadba Minaret, which was built more than 840 years ago.
This historic and defining structure was all but levelled by violent extremists who occupied the city from 2014 to 2017. The project also provides employment opportunities and job training. It is an integral part of UNESCO's flagship initiative Revive the Spirit of Mosul, launched in February 2018, as the Organisation's response for the recovery of one of Iraq's most iconic cities, through the revival of education, heritage and cultural life.
Meanwhile, the UAE's Minister of Culture and Knowledge Development, Noura bint Mohammed Al Kaabi, said: "We have come a long way since the project's inception. We have witnessed significant developments on the ground. Al Nouri Mosque represents a historical and a cultural asset."
---
This information has been sourced from ConstructionWeekOnline. All rights and opinions thereof belong to the original source author/publisher. WASEL&WASEL does not purport to be affiliated with the news, its persons, or interests in any way unless explicitly stated so.
---
To request our assistance, please contact one of our Professionals.